An ecosystem, in it's simplistic form, is about balance. All the parts working, existing, interacting, together to create a balanced ecosystem. The result of that magical collaboration is a sustainable ecosystem.
An online community can be described as a type of ecosystem. The ideal balance between the members of the community and the value of the community, among multitude of other factors, results in a sustainable community, functioning as an ecosystem. Today we are taking a look at the reasons why an ecosystem is the perfect analogy for an online community and some touch points to remember when you are trying to reach "sustainable" within one.
Buzzword and hype, or valid analogy?
Ecosystem has become a business buzzword, partially for it's universal representation of a successful system of multiple parts functioning as one. The analogy is accurate and possibly underutilized in communicating the relevance of many life processes and business processes.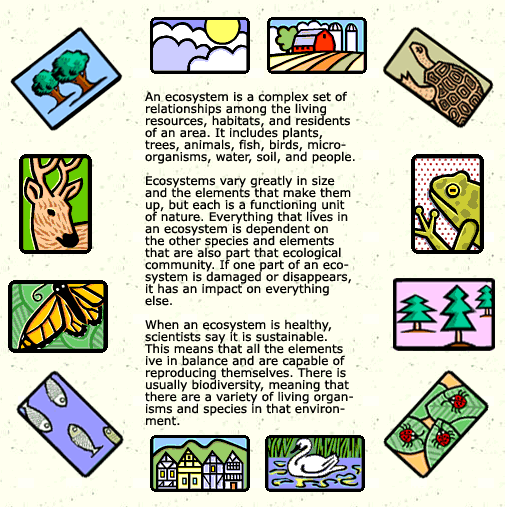 In an enlightening post by J-P De Clerk on the topic of social networks and organizations, Mr. De Clerk utilized a childrens website called KidsCorner (side note, interesting project in conjunction with the USDA Forest Service, do check it out) to provide the clearest and simplest definition of what an ecosystem is. The above image is from that website and gives you the definition of ecosystem.
Mr. De Clerk has me considering this. I have always understood and considered many things ecosystems in the precise and delicate balance in which they successfully exist. As I read his post, it got me thinking about all the ways in which the analogy is truly a wonderful way to convey the concept of an online community. A community is no different than any other ecosystem.
The Ecosystem we call an 'Online Community'
In seeking to create a vibrant and sustainable community, you work with many potentially fragile parts that together create the whole. In this analogy we are specifically referencing the human interactions, as well as the contributed content, that builds the foundation of the sustainable community.
These relationships may require precise and measured amounts of encouragement, support and nurturing to ensure a truly balanced and therefore sustainable resulting ecosystem.
Understanding and Patience
As with any young plant or creature, a minimum level of focus and care is required to permit for the proper development and growth. If any of the necessary elements are withheld, you will see a failure to thrive situation in which failure is inevitable. Sometimes it can be recoverable, but many times it cannot.
An online community is no different than a living organism in this regard. It takes time and effort to reinforce the community interaction and engagement. If you even step away for an extended period of time, you risk the collapse of the entire ecosystem, as the caregiver aka 'the custodian' is no longer there to nurture and encourage the community.
This is essential the job of a community manager, whether you consider yourself one, or not, when you work with any form of network or community, there is a symbiotic relationship that is develops and along with it a form of dependency if not need or requirement, of the 'nourishment' you will provide that community.
Making an ecosystem accessible
Yes, this analogy can make it sound much more complicated than it really is. The simplest way to explain this is to suggest that if you contribute, monitor, engage, and encourage others to do the same, you will establish an interdependence among the members, establishing an 'addictive' pattern (aka habit) among the member of the community. Relying upon you, and the community that they have now embraced, as a trusted resource for whatever the particular focus is.
It returns to the basic rule of all social interactions – online or off, build a relationship, establish trust and give back to others to see the best success possible for your network or community.
What other ways do you help to nurture your community to grow a sustainable ecosystem?