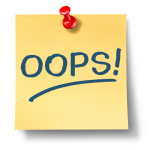 As promised, more community management mistakes you don't want to make, and how to effectively navigate out of them. Stay tuned for the third and final installment this Friday and check out Part 1 here.
You're Boring.
Sorry to be blunt but… no one wants to be a part of a community when all they hear is crickets. Spice things up by regularly posting diverse content and offering at east one unique engagement opportunity per week.  Check out some great ideas for that here. Also try to stay away from stuffy, corporate language and "buzzwords."
You're Going it Alone.
Don't make the mistake of thinking you can build a community single-handedly. Make sure you're still regularly following and engaging in conversations on other communities and maintaining existing relationships. Pre-established connections are your best friend when it comes to community building. Reach out to already established bloggers and community managers and ask for constructive advice.
You Sell too Much
There's a difference – albeit it a fine line – between promotion and spamming. Make sure you're on the right side of that line. If you're overly promotional on other communities, blogs, or via your social media channels, you'll turn people off before they even get a chance to take a look at your community. Make sure you don't kill a potential member opportunity by coming off too strong.