Follr Business Includes 'Social Stream' Feature, an Innovative and Highly Visual Aggregation of Social Media Content
Wappingers Falls, NY (December 31st, 2012) Follr, Inc., today announced the release of Follr Business, a Web based SaaS (Software as a Service) product aimed at helping corporations create a local and mobile-enabled, social media based Web solution that aggregates their brand and Digital Identity. The product is the third released by the company joining Follr Personal and Follr Community.

A Follr Digital Identity business Website organizes and aggregates a company's online information making it accessible via one memorable Website address. It additionally leverages employees and staff to protect a companies brand while simultaneously driving online traffic to official marketing channels like Facebook business pages and Twitter.
"The global population, personally and professionally, is just beginning to understand the importance of Digital Identity," said Stephen Fells, Follr CEO and Co-Founder adding "With the release of Follr Business we now have a complete suite of products to service Digital Identity needs irrespective of market segment or location."
The advent of improved mobile technology and Web based 'social' services has led to a proliferation of choices for individuals, businesses and all types of organization. With these choices and the enormous growth in online sharing new opportunities and new problems have been created, opportunities Follr looks to amplify and problems it's products help solve.
Follr Business helps companies who are overwhelmed with the complexities of not only social media but also technology and marketing in general. It has been developed using responsive design (often referred to as RWD), an approach to Web design that ensures an optimal viewing experience. The method results in minimal re-sizing, panning and scrolling when navigating using a multitude of devices including mobile phones and tablets.
It also includes 'Social Stream', an innovative and highly visual aggregation and representation of a companies social media content. Through one image, a visitor to a Follr Business Website can see and access tweets, blog posts, videos and other social media content published by a company.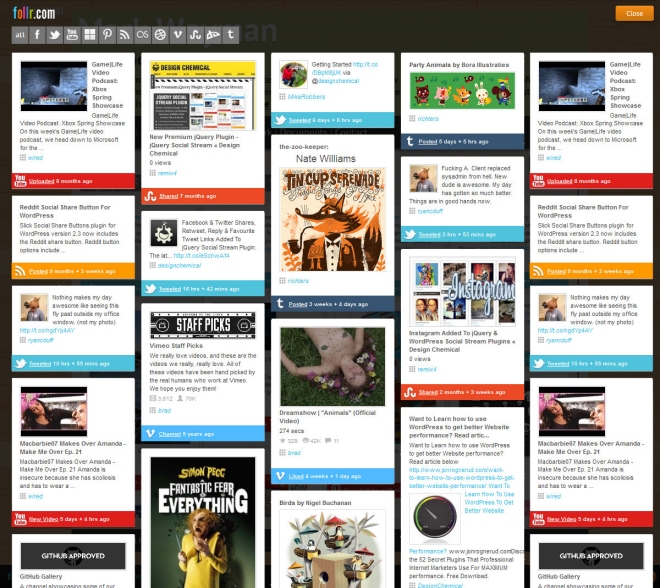 Follr Business also provides access to local markets as a result of a relationship the company has with UBL Interactive, Inc. (UBL), a company that provides business owners and their representatives with a cost effective one-stop location for broad distribution of complete, accurate, and detailed business information.
"We have long felt that the small and medium business space has an overwhelming number of Web choices that are too technical to implement, require marketing expertise, are too expensive or combine all of these things," stated Follr Co-Founder, Mark Wayman adding "Follr Business helps by addressing these problems and providing companies with everything they need for today's consumer. As we enter 2013 we continue to work on cross product functionality and the addition of new features."
Another problem addressed by Follr Business is social media use by employees. A rise in the creation of unofficial Facebook business pages and Twitter accounts by staff and in some instance clients has resulted in confusion among consumers. Follr Business helps reduce this problem by ensuring employees identify official marketing channels via their Follr Personal Digital Identity Websites. By taking advantage of the inherently viral benefits of modern day social communication, a business also gets exposure to the extended network of those same staff resources. This additionally helps Human Resource departments looking to implement social media policy.
Follr Business allows for document uploads, a custom domain name and social sharing, a way for visitors to share a company's content and product information. Follr Business is a subscription based service.
About Follr, Inc.:
Follr, Inc. is a software company founded in 2011. Based in New York and California Follr provides Digital Identity Websites to individuals and corporations. Follr products include Follr Business, Follr Personal and Follr Community. Follr Business is a local and mobile enabled, social media based Website solution without the need for technical or marketing expertise. Aggregating a brand's Digital Identity, it is a suite that represents the sum of everything online about a business and brand. Follr Personal aggregates all digitally available information about an individual making it available via one, short, domain name. It simultaneously serves as a social résumé, marketing aggregator and online business card. Follr Community helps associations, professional bodies, membership groups and societies better serve their members and students while simultaneously leveraging their network to reach a broader market.
About UBL Interactive and Universal Business Listing:
UBL Interactive, Inc. (UBLI) is based in Charlotte, NC, and operates Universal Business Listing at www.UBL.org. UBL provides business identity management tools for businesses large and small, SEO providers, advertising agencies and interactive marketers to help their customers distribute their business details as a trusted source across search engines, online Yellow Pages directories, 411 directory assistance, social networks and mobile devices. The company also offers reputation monitoring tools and a variety of premium Local SEO optimization services.
Forward-Looking Statements:
This news release may contain forward-looking statements. Forward-looking statements are indicated by words such as "expects," "intends," "anticipates," "believes" and similar expressions. Our ability to achieve the results anticipated in such forward-looking statements is subject to risks and uncertainties, including, without limitation, our ability to successfully centralize and consolidate various support functions, in addition to general economic conditions, operating results, market acceptance of our solutions and other risks detailed from time to time in our reports filed with the Securities and Exchange Commission. These forward-looking statements are made in accordance with "safe harbor" provided by the Private Securities Litigation Reform Act of 1995 and no assurance can be given that the future results that are the subject of such forward-looking statements will be achieved. The Company undertakes no obligation to publicly update or revise the forward-looking statements, whether as a result of new information, future events, or otherwise.
Contact:
Follr, Inc.
Stephen Fells – CEO
(888) 201-5160
steve@follr.com