You can generate revenue through your Follr online community in many ways. Sell event tickets, offer paid subscriptions to access exclusive content, and even earn money by inviting others to do the same. With Follr Rewards, monetizing your online community efforts is easy as A-B-C. You can also easily track your rewards right from your Rewards Program Dashboard: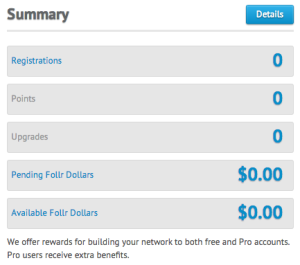 Follr Guide to Rewards:
Grow your network, save your friends money and earn Follr Dollars you can use for upgrades and add-ons.
Earn Follr Score points for every signup from your link. Your friends receive amazing savings thanks to you! Earn 1 point for each registration, 2 points if you are a Pro member.
If anyone you invited upgrades, you earn Follr Dollars you can use to upgrade to Pro or to buy an add-on domain name. Earn $2 Follr Dollars for each registration, $5 Follr Dollars if you are a Pro member. It's that simple. Create your own Follr Community today and get earning!