Building community has always been one of the hot topics in social media. As Follr launches Follr Communities 1.0 we invite you to join us in a series of posts exploring the process, needs and results of those building online communities. So we begin with part 1 of the series: Community Building for Everyone.
In social media, as in life, most of us focus our efforts on connecting, and building those trusted relationships that lead to a strong community with solid connections.
The greatest challenge for many in the field of social network community management isn't building the community, it is keeping track of our community and finding new members with like interests and goals.
No matter what kind of community it is, whether a charitable and altruistic or a business trying to work through customer service initiatives online, aggregating the interactions and connections into a single place for consistent communication has been limited to mostly internal spreadsheets, CRM tools, blogs or groups on services such as LinkedIn or Facebook.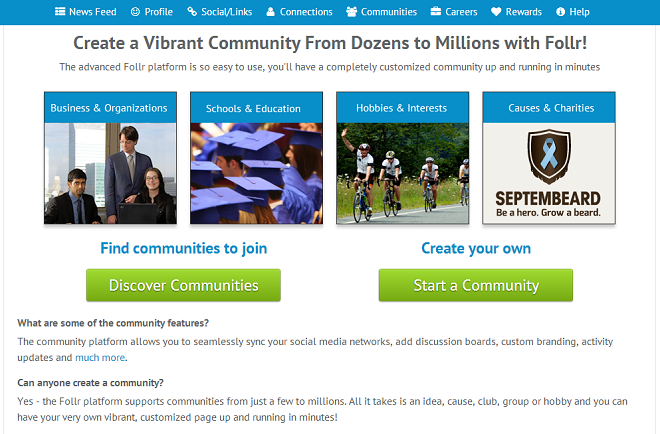 The recent changes in how some of those services share your group or promote your business has left people wondering how to reach their audience, and build engagement. It's rather difficult to do if you are having your community sharing muted.
The difference can be found in Follr Communities. Our communities provide a place where your content belongs to YOU, your community is completely indexable with powerful organic SEO allowing for your message to have a much greater reach than ever before imaginable, growing your community with less effort and better quality connections.
What are the top challenges and solutions of online community building? We will explore those in the next post in this series. In the interim, why not take a test drive of a Follr.com Community?