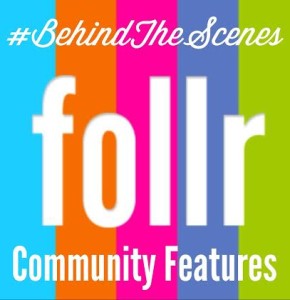 Hello again!  This week on the Follr Blog we're going to be taking a look at another exciting feature for your Community: Changing your Theme.
One great thing about Follr is that you can really make your Community page your own.. you can let your creative side out and design to your heart's content!
Let's take a look at how you can change the look and feel of your Community page.
First log in to www.follr.com and create a Community page if you haven't already done so.
Then click on "Communities" at the top and then the Pencil icon or the "Administration" link next to the Community you wish to update:


Good work!  Next click on "Design & Layout" on the left-side navigation and under that click on "Theme":

Next you can upload images to change the Banner, the Inner Banner and the Thumbnail image of your Community page:

Now for the really cool part!  Keep going on that page to change the Background Image and Background Color of your page:

Here's a close-up of the color wheel you can use to change the Background Color.  Use your mouse to click, hold and drag the small white circle around the outer color wheel to update the color square in the middle.  Then do the same with the small white circle in the color square to choose the color you want.  You'll see the box at left update with your chosen color.

Then when you're ready, click "Save Changes" at bottom.  That's it!  You can then go to your Community page and see your awesome new design.
Keep coming back to the Follr Blog each week for an exciting new Community Feature you can use to improve and grow your Follr Community!